World Book Day 2020
On Thursday and Friday everyone was excited to join in with our celebration of World Book Day 2020. We took part in lots of different activities such as Buddy Reading, Character Hunts and Kahoot quizzes while on Friday everyone got the chance to dress up as their favourite character from a book which they had enjoyed.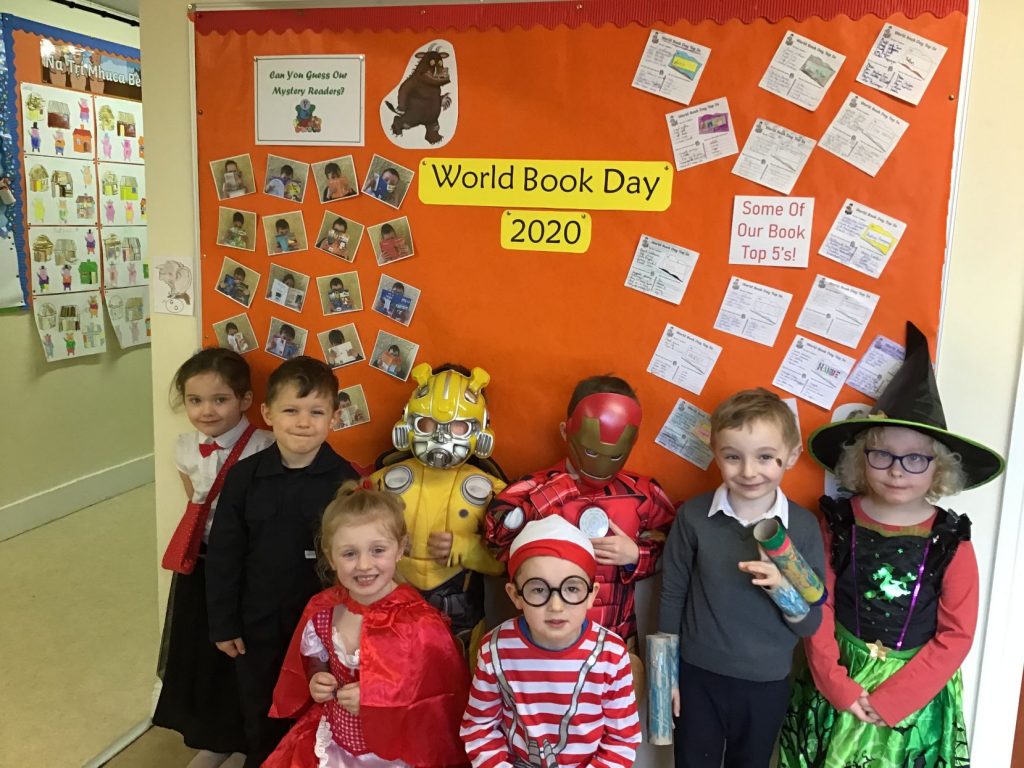 Knock Retreat

On Monday the 18th of February 5th & 6th class went to Knock for a Confirmation retreat. When we got there we went into a prayer room. There was another school in there and a woman named Nicola. They were all very nice. The first thing we did was learn each others names. Nicola then told us about her experience when she was making her Confirmation. She says its not all about the money and the food and the nice clothes, its about receiving the Holy Spirit and being a better person. We then learned about the gifts and the fruits of the Holy Spirit. Then we wrote a letter to God about whatever we wanted. Then we had a small break.
After the small break we went to the church and a person called Mary told us about the apparition and we saw the statues of Mary, Joseph and John the Evangelist and the lamb. Fifteen people gave recounts of what they saw and they were all the exact same. No words were said the whole time. After we did this we went to the Basilica. It was a beautiful building and had a lot of seats in it. In there is an amazing mosaic of the apparition. It is massive. When we were finished in the Basilica we went to the museum. In the museum we learned all about Knock, the apparition and the people who witnessed it. We had a worksheet to fill out with about ten questions, but it wasn't to hard. After that we went back to the prayer room and lit some candles in the shape of a cross and did some meditation to finish the day. After that we went home.
It was a brilliant day and everyone learned and enjoyed it. I hope when the next people go in two years time they will enjoy it as much as we did.
By Luke Creighton & Matthew Ffrench.
In Our School – November 2018
Buddy Activity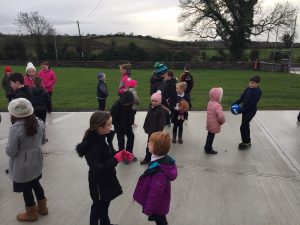 The Buddy Activity was set up by Ms Prior for the month of December. All the children in the school were partnered with someone else. No one is partnered with their siblings because the aim of the Buddy Activity is to get to know people you wouldn't normally talk to. Everyone had three partners by the end of the four weeks. On the first and last week you had the same partner. On the second week, 3rd Class were picking the younger ones names out of a hat. On the third week the younger ones were picking 3rd to 6th Classes names out of a hat. Every day you were given a topic to talk about, for example, "What's your favourite food?" or "Where's your favourite place to go?". On Friday's we didn't ask questions but brought in our favourite games, books, etc. We were doing this to reduce the amount of Christmas Cards and envelopes being left in the School and just being binned. We also made gifts for our first Buddy that they can keep forever.
By Leah Patterson
Christmas Shoeboxes
In November, we made Christmas Shoeboxes for Team Hope. In the end, we made 69 boxes. The Shoeboxes were sent away to children in war affected and very poor countries. You could fill a box for either a boy or a girl with three age groups; Toddlers to 5 years; 6-9 years; and 9-14 years. The idea is to give a box full of gifts to someone who is not as fortunate as you. You could put all sorts of things in but there were a few you couldn't, like chocolate, war related items, or big items of clothing or liquids. We all think it is such a lovely thing to do at Christmas time.
By Leah Patterson